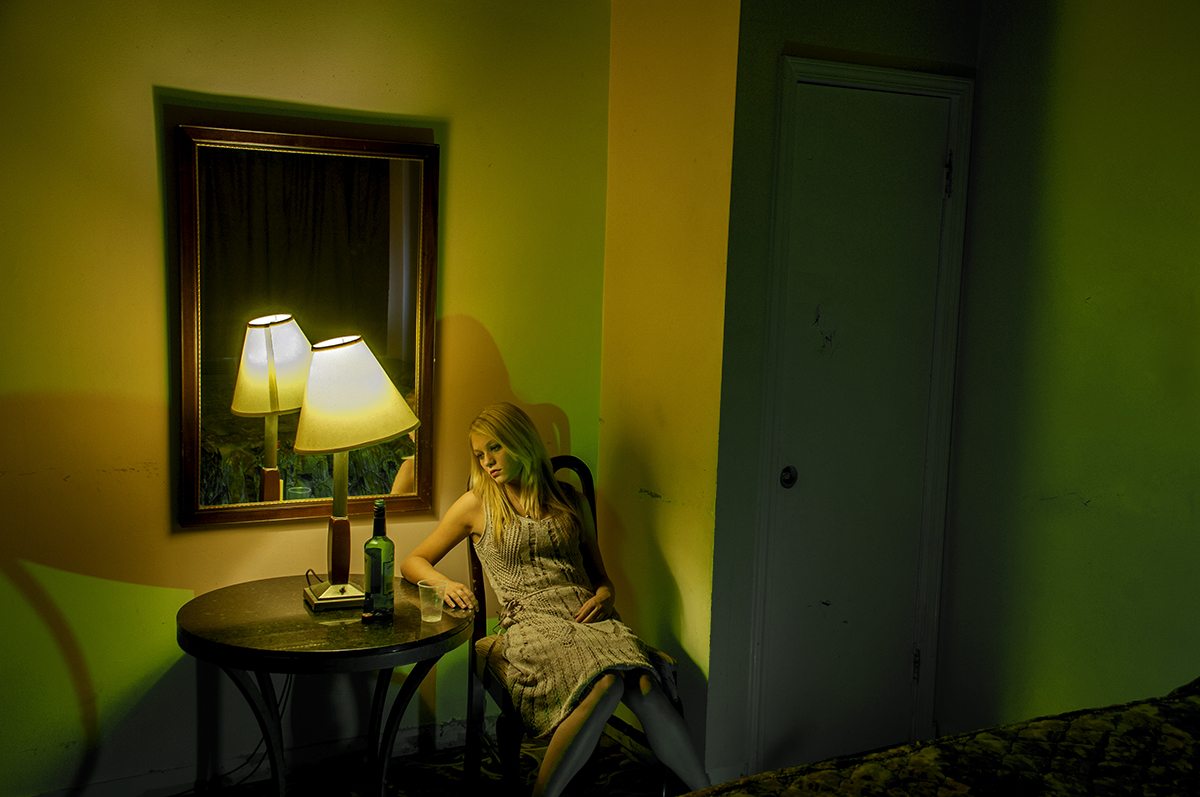 Iris in the Dive Hotel
About
Share
Purchase
Model

:

Iris Akerman

Location

:

Lyons, Illinois

Wardrobe Styling

:

Twenty Seven and a Half
Share
I'm never quite sure where I come up with my ideas.  One day I'll be thinking of something and an image will pop into my head.  Last Tuesday, that image was of a model in a very nice dress, bathed in an unexplained green light in the world's worst hotel.  On Saturday, I was shooting it with model Iris Akerman.
The funniest thing about this shoot was how absolutely horrible the hotel room was.  It was without a doubt the worst hotel room that I'd ever set foot in.  It smelled of old cigarette smoke, old perfume, despair and cheap plastic.  The bedspread had multiple cigarette burns in it, the walls were dented, dinged, patched up and, in certain places, simply had holes in them.  The bathroom featured a tub that wouldn't turn off and something that I am hoping and praying was bits of American cheese on the wall. …And I couldn't have picked a better room for my photo.
The irony of this shoot was that I spent an hour plus packing up lights in my studio, putting them in my car and then setting them up in the hotel room only to realize that I liked the results a lot better with almost no lighting set up.  What you see here is the light from the 45 watt bulb in the room lamp and a green party bulb that I put under the bed.  That's it.  I had thousands of dollars of equipment lying around, not being used in any way, in favor of a 99-cent party bulb.  I will never understand how this works.
As an aside, I purposely eschewed hair and makeup for this shoot.  I told the model, "You're doing your own hair and makeup."  She told me that she didn't think she could do that good of a job.  I told her that was perfect for what I was going for.  It's always nice when the solutions to your problems are less work and cheaper options.
The photo dimensions listed reflect the size of the print, not the matte.
Other sizes are available.
Shipping is free!
For additional details, please read our recommendations.